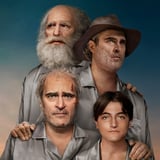 Image Source: A24
The reality-bending trailer for Ari Aster's new film "Beau Is Afraid" is here. The writer-director rose to fame for 2018's "Hereditary" and 2019's "Midsommar," which both became breakout hits for A24. His newest film stars Joaquin Phoenix as an anxious man with a difficult relationship with his mom. In the trailer, released Jan. 10, he goes on a very trippy journey as he tries to make sense of his life. The film's poster and trailer feature four different versions of Phoenix's character throughout his life, including a disorienting look at him as a young boy. Watch the trailer below!
A24 describes the film simply as: "A paranoid man embarks on an epic odyssey to get home to his mother in this bold and ingeniously depraved new film from writer/director Ari Aster." The trailer shows this "epic odyssey" includes kidnapping, a car accident, and a journey through a forest that seems like it was built for children's television. Back in 2020, Aster told the Daily Nexus the movie is a "nightmare comedy," but it's not clear yet if it'll be quite as scary as his earlier films. The movie was originally called "Disappointment Blvd." before the name changed in December 2022, which might be a clue to the issues the film is grappling with. Whatever the movie turns out to be, we can't wait to dive into the surreal world Aster has created.
Ahead, here's everything we know about "Beau Is Afraid," including the cast and release date.
"Beau Is Afraid" Trailer
"Beau Is Afraid" Cast
Phoenix stars as the titular Beau. Zoe Lister-Jones plays the younger version of his mom. "Only Murders in the Building" stars Nathan Lane and Amy Ryan reunite for the film, joined by Patti LuPone, Parker Posey, Michael Gandolfini, Richard Kind, Stephen McKinley Henderson, Denis Ménochet, and Hayley Squires.
"Beau Is Afraid" Release Date
"Beau Is Afraid" will be released in theaters on April 21.