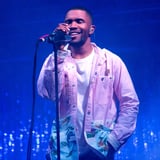 It's official – the Coachella 2023 lineup has finally arrived, and it's stacked with heavy hitters. On Jan. 10, the famed music festival unveiled its highly-anticipated headliners: Frank Ocean, Bad Bunny, and K-pop girl group Blackpink. This year's roster includes dozens of other buzzy acts, including Rosalía, Gorillaz, Charli XCX, Burna Boy, Pusha T, Labrinth, Becky G, Latto, and many, many more.
The new announcement comes more than a year after Coachella confirmed Frank Ocean as a future headliner. Ocean was originally scheduled to perform at the 2020 festival before the COVID-19 pandemic forced a cancellation. In a 2021 interview with the Los Angeles Times, Coachella cofounder Paul Tollett noted that he would normally never reveal the name of a performer so far in advance, but given the uncertainty of the pandemic, he said fans deserved hope for the future. "Right now, it's the Wild West," Tollett said. "I'm just trying to be as fair as I can to artists and to the fans to make sure that eventually, they get to see everyone that we talked about."
Ocean first performed at Coachella back in 2012, though his 2023 performance will be his first time headlining the event. There are also rumors swirling amongst fans, per NME, that the notoriously-private artist will release new music ahead of his live performance, though he has yet to confirm any new material. He released his last album, "Blonde," in August 2016.
Coachella's 2022 festival – its grand return after a two-year break, headlined by Harry Styles, Billie Eilish, The Weeknd, and Swedish House Mafia – was filled with unforgettable moments. Good friends Styles and Shaina Twain performed a stellar duet together, while the former also brought Lizzo out on stage. Meanwhile, Megan Thee Stallion blew fans away by debuting her unapologetic "Plan B" single. More surprises are sure to come when the festival returns this spring.
Coachella 2023 takes place across two weekends: April 14-16 and 21-23. Head to the festival's official website now to see the full lineup.