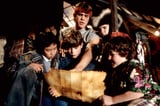 It's been over 30 years since "The Goonies" hit theaters, and even though there were rumblings of a sequel a few years ago, those plans seem to be off for now. Regardless, it's a nostalgic classic, largely thanks to the memorable performances given by its five main stars – Sean Astin, Corey Feldman, Jeff Cohen, Josh Brolin, and Ke Huy Quan.
Since the movie's debut, the core cast has embarked on a variety of different paths in the entertainment industry. On Jan. 10, Quan took home a Golden Globe award for his role in "Everything Everywhere All at Once" and paid tribute to his child actor days in an emotional acceptance speech. "As I grew older, I started to wonder if that was it, if that was just luck. For so many years, I was afraid I had nothing more to offer," he said of his "The Goonies" days. "No matter what I did, I would never surpass what I achieved as a kid. Thankfully, more than 30 years later, two guys thought of me," he added, referencing "Everything Everywhere All at Once" directors Daniel Kwan and Daniel Scheinert. "They remembered that kid, and they gave me an opportunity to try again."
If you love "The Goonies," keep reading ahead to find out what Quan, Astin, Feldman, and their castmates have been up to in recent years.