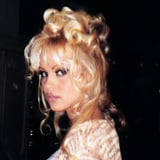 Image Source: Carmelo Redondo
Pamela Anderson is ready to tell her side of the story. Following the premiere of Hulu's "Pam & Tommy" series, Anderson has teamed up with Netflix to release her own documentary. Anderson announced the news in a handwritten note on March 2, 2022.
"My life / A thousand imperfections / A million misperceptions / Wicked, wild and lost / Nothing to live up to / I can only surprise you / Not a victim, but a survivor / And alive to tell the real story," she wrote.
In the trailer, which dropped on Jan. 10, Anderson begins by saying in a voiceover, "I wanna take control of the narrative for the first time." The two-minute video features clips from Anderson's life over the years and includes her addressing her leaked sex tape with ex-husband Tommy Lee. "I had to make a career out of the pieces left, but I'm not the damsel in distress. I put myself in crazy situations and survived them," Anderson says. "I don't care what people think because it's the only choice I had. If I cared what people think, I wouldn't be here."
According to the project's official logline, the documentary is "an intimate portrait embedded in the life of Pamela Anderson as she looks back at her professional and personal path and prepares for the next steps on her journey." The film has been in the making for several years and will include never-before-seen archive footage and Anderson's personal journals.
Ryan White directed the project, with Jessica Hargrave, Julia Nottingham, White, and Anderson's son, Brandon Thomas Lee, serving as producers.
"Pamela, a Love Story" Trailer
"Pamela, a Love Story" Release Date
Anderson's documentary premieres on Netflix on Jan. 31.
"Pamela, a Love Story" First-Look Pictures