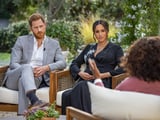 In March 2021, Prince Harry and Meghan Markle finally got the opportunity to speak their truth when they sat down with Oprah Winfrey for their first joint interview since their royal exit. We knew the tell-all would be explosive, but Markle and Harry truly held nothing back. Given the outrageous amount of scrutiny and blatant racism Markle has faced since she first got together with Harry in 2016, the moment was long overdue.
Harry and Markle's explosive Netflix docuseries, which premiered in December 2022, also revisited the bombshell interview that the latter says they watched in real-time with the rest of the world. "I thought that me being very open about the depression that I experienced and just how extreme that became, I thought that would be the biggest takeaway," Markle shares in the series. "But it was entirely eclipsed by the conversation surrounding race."
The Duke and Duchess of Sussex confirmed in February 2021 that they would not be returning as senior members of the British royal family following their 12-month trial period. As a result, Queen Elizabeth II – who died at age 96 on Sept. 8 – stripped them of their honorary military appointments and royal patronages; however, they still hold their titles (at least for now, anyway).
Since then, the tabloids have remained hellbent on tarnishing Markle's name. But if we learned anything from Harry and Markle's Oprah interview, as well as "Harry & Meghan," it's that the palace and the British press just don't know how to handle a woman who is independent, speaks her mind, and isn't afraid to challenge the status quo.
However, Harry and Markle's new revelations didn't stop there. On Jan. 10, Harry released his highly-anticipated memoir, "Spare," which details his life growing up as a royal, how he coped with the death of his mother, Princess Diana, and the hardships he's endured with his family – some on account of his marriage to Markle. Harry's many interviews (on "60 Minutes," "ITV," and "Good Morning America") about the book have also been very revealing, as the Duke of Sussex has expressed his mission to tell his truth in order to reconcile with the royal family.
Ahead, revisit the biggest revelations from Harry and Markle's tell-all with Winfrey.