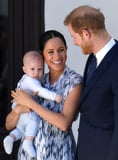 Prince Harry and Meghan Markle's first child, Archie Harrison Mountbatten-Windsor, came into the world at 5:26 a.m. on May 6, 2019, weighing just seven pounds and three ounces. He became a big brother when his little sister, Lilibet, was born in June 2021.
While promoting his memoir "Spare," released on Jan. 10, Harry shared a bit about his two kids, revealing that he notices some similarities between their bond and his relationship with his own brother, Prince William. "The gap between me and William is very similar to Archie and Lili," he said in an interview with ITV's Tom Bradby. "To see Lili obsessed with Archie and Archie like 'No, no Lili, I need my space, I need my space' – now I get it."
Archie has already had quite a remarkable life, making history the moment he was born by becoming the first-ever British-American baby born into the royal family. He soon embarked on a royal tour in southern Africa alongside his parents in 2019. For Archie's second birthday, the Duke and Duchess of Sussex celebrated by donating 200 Make Give Live beanies to New Zealand's I Got Your Back Pack charity, which provides emergency care packs filled with essential items to victims of domestic violence. In June 2022, they brought Archie and Lilibet back to the UK for the first time since moving to the United States to celebrate the late Queen Elizabeth II's Platinum Jubilee.
Harry and Markle have offered glimpses into Archie's life now and then, showing their little bundle of joy to the world for the first time during a photo call at Windsor Castle in 2019 and also sharing a few shots of him on their former Instagram page.
Ahead, see all the adorable glimpses we've gotten of Archie so far.